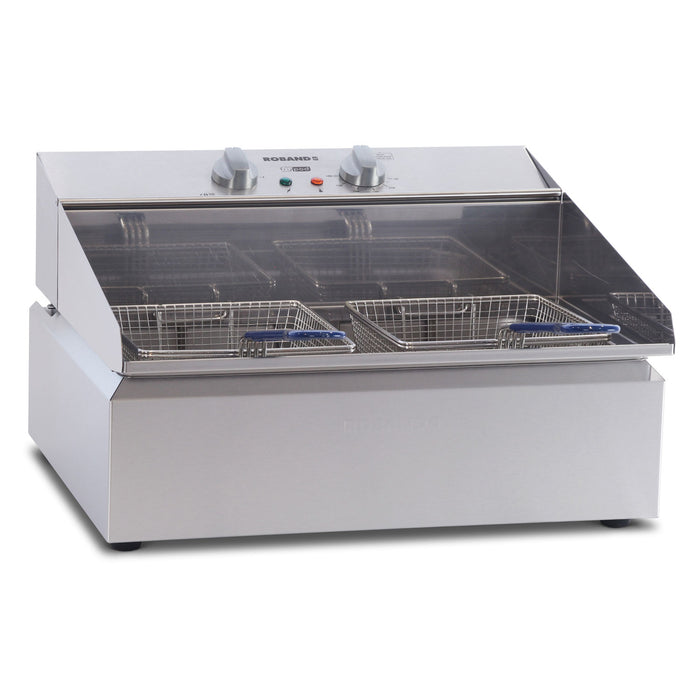 Roband Single Pan Frypod 11Lt
Need it Soon?
Recommended Retail Price
$971.00
Recommended Retail Price
$971.00
-
Recommended Retail Price
$971.00
Recommended Retail Price
$971.00
Delivering perfectly fried food time after time, the responsiveness of the Frypod elements to any drop in temperature has been honed and the temperature band that the fryer continues to operate in when loaded with food has been tightened. This ensures that the temperature drop of the oil is minimised during the cooking process, delivering consistent, perfect results. It also means less oil in the food and longer oil life.

With a modern brushed stainless steel finish, the sleek exterior also houses a simple but clever safety lock mechanism that prevents users from removing the elements when the machine is switched on and prevents the machine from being turned on when the elements are removed.
When it comes to cleaning, the Frypod provides a number of thoughtful features. The elements easily swing back and offer two lock positions – one for draining oil, the other for tank removal. The splashguard, that returns splashed oil to the pan during use and incorporates a bash plate, can also be removed and washed, whilst the beveled edge of the fryer body itself provides a lip for easy tank removal.
Delivering Roband's trusted quality and performance, the Frypod fryer is a robust reliable fryer that will not disappoint.
Downloads
Click here to download printable brochure with more details
Click here to download instructions of current product version