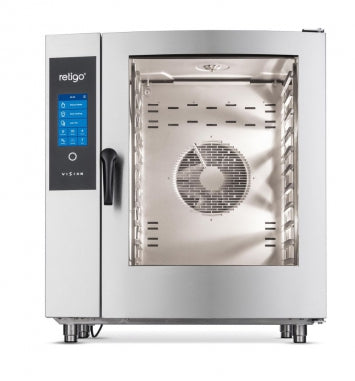 Retigo Blue Vision Combi 10 x 1/1 Tray
Save

24

%
Save

24

%
Recommended Retail Price
$25,251.00
Recommended Retail Price
$25,251.00
-
Recommended Retail Price
$25,251.00
Recommended Retail Price
$25,251.00
BLUE VISION BY RETIGO SMART INVESTMENT

10 Tray 150-250 Meals
RETIGO Blue Vision is the highest model series of RETIGO Vision combi ovens. Individual combi ovens are designed to offer everything the demanding user needs. It is controlled through the 8" control panel, offering quick access to all key and special functions. All models in basic configuration are equipped with the functions of automatic cleaning system and Easy Cooking, a flap valve and six-point temperature core probe.
Hot air 30 – 300 °C
Combination 30 – 300 °C
Steaming 30 – 130 °C
Bio steaming 30 – 98 °C
Overnight cooking – Saves time and money.
Rack timing – Set individual rack times for multi-product cooking.
AHC (Active Humidity Control) – Automatic humidity control for great cooking results.
Advanced steam generation system – Two-step water preheating with an in-built heat exchanger for perfect steam cooking results.
Crosswise racks – Safer and comfortable GN handling. Better product visual control.
Regeneration/banqueting – Cook, chill, and regenerate to serve more diners in shorter times.
Delta T cooking – Use the advanced cooking method to reduce shrinkage on slow-roasted meats getting amazing results.
Low-temperature cooking – Benefit from less weight loss, better taste.
Cook & Hold – Let it cook and held serving temperature.
Golden Touch – Add a golden-brown, crispy finish with just a touch.
Automatic preheating/cooling minimizes the loading temperature drop. Start cooking with the desired temperature.
Sous-vide, Drying, Sterilization, Confit, Smoking – Great way to make your menu special.