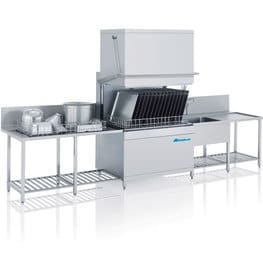 Meiko Pot Washing Machine Pass Through With Air Concept
Need it Soon?
Recommended Retail Price
$51,319.80
-
Recommended Retail Price
$51,319.80
The enormous passing height of 650 mm of this commercial dishwasher allows even large pots, pans and crates to be slid in easily. It works quickly, confidently tackling the kinds of jobs that normal dishwashers struggle with, thanks to dynamic high-performance pumps and oscillating wash arms.
hide
This commercial dishwasher has everything it needs to makes it a true all-rounder: That means everything runs more smoothly in the dishwashing area. Uncompromising power effect means there is no need for manual cleaning! The flat tables ensure that there are no idle times – the personnel work in an ergonomically sensible manner.