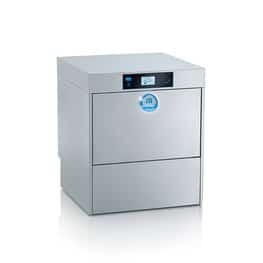 Meiko M-iClean Undercounter Utensil Washer
Need it Soon?
Recommended Retail Price
$10,800.00
-
Recommended Retail Price
$10,800.00
The large version of the M-iClean dishwashing machines for food service offers maximum performance: with a rack size of 600 x 400 mm, even washing crates, GN containers and trays is no problem. The GiO MODULE and heat recovery ensure a more pleasant indoor climate and spotless washing results.
hide
With a size of 600 x 820 mm and a depth of 680 mm, this dishwashing machine for food service is also ideal for use in butcher's shops and bakeries, where it can handle even bulky washware. The smart LED indicator handle and display are a real eye-catcher. And best of all, despite these dimensions and performance, you enjoy energy savings of up to 21 %*. The ComfortAir heat recovery system makes this possible. So big and yet so thrifty!