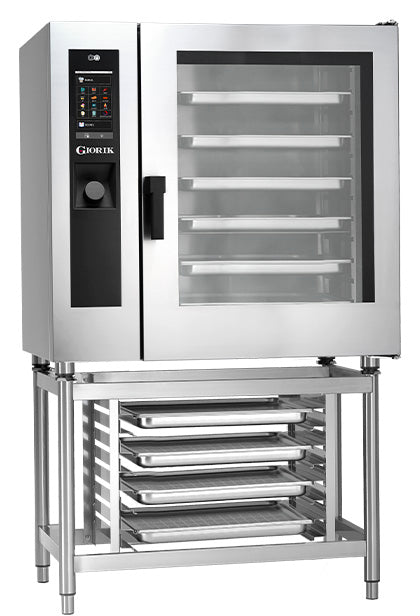 Giorik Steambox Evolution 10 Tray
Save

12

%
Save

12

%
Recommended Retail Price
$28,300.00
Recommended Retail Price
$28,300.00
-
Recommended Retail Price
$28,300.00
Recommended Retail Price
$28,300.00
Symbiotic system
Thanks to a Giorik patent, two steam production methods coexist in the Steambox Evolution H oven, combining the quality of boiler-generated steam with the speed and economy of INSTANT steam. The benefits that this system brings can be easily measured in terms of SPEED, QUALITY, EFFICIENCY and SAVINGS.
The perfect climate Habitat
The unique humidity control system (Giorik patent) allows you to monitor the climate situation in the cooking chamber and to promptly intervene to maintain the correct degree of hydration. This is thanks to the software that analyses the reference parameters in the chamber, making adjustments to steam production or humidity discharge.
Innovative washing
Thanks to the fully automatic closed-cycle system, Steambox Evolution H ensures maximum hygiene in the cooking chamber with minimum water consumption.
Washing can be performed with liquid detergent or with tablets containing a sanitiser. The rinsing phase can instead be performed with organic rinse aid or white vinegar. The system is fully automated and does not require the presence of an operator. Self-cleaning boiler.
AUTOMATIC CLEANING IS STANDARD ON ALL MODELS.
Data Sheet      Brochure    User Manual
9'' Touch screen control
9" backlit touch screen display, the largest of all the Giorik oven range. Simplified cooking operations with user-friendly controls.