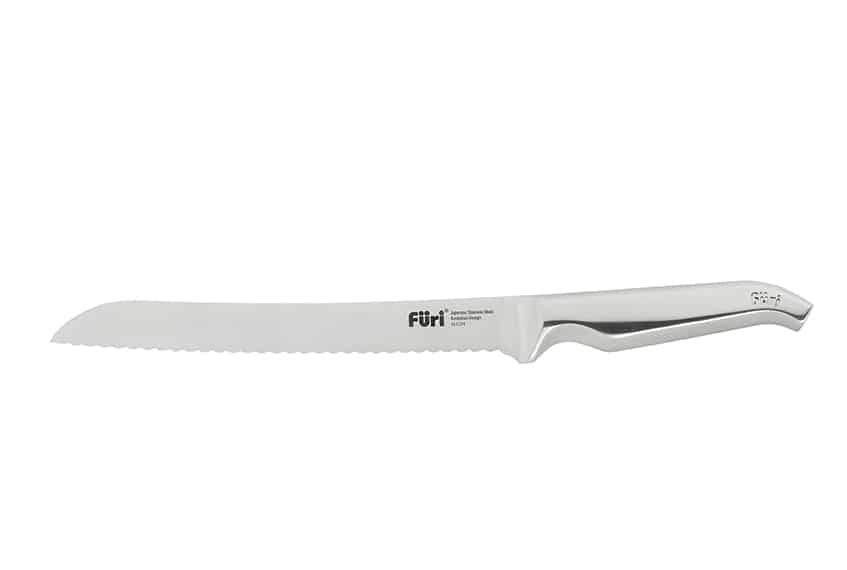 Furi-Pro Bread Knife 20cm
Need it Soon?
Recommended Retail Price
$54.00
Recommended Retail Price
$54.00
-
Recommended Retail Price
$54.00
Recommended Retail Price
$54.00
Slices without tearing. Designed with rounded serrations to stay sharper for longer. These perfect serrations mean a smooth cut on your sourdough, rye or pane de casa.
Engineered for design, innovation and performance. Chosen by leading chefs. We are Furi. Innovation is our story. It is built into our DNA and at the core of everything we do. We have a rebellious instinct to discard old ways and to think differently. We know how to help solve everyday modern problems. The real ones that home cooks and professionals face in their kitchens 24/7.
REVERSE WEDGE HANDLE

Tough on food, kind on hands. The innovative reverse wedge handle locks into your hand for a safer grip reducing hand fatigue. Engineered with hygiene and safety, the seamless construction eliminates the trapping of food and dirt.
AUSTRALIAN DESIGNED

Designed in Australia, Füri knives were made to be different. Füri thought of hands first before designing knives. Turning a handle upside down reduces hand fatigue and increase safety. After all, if a knife feels right in your hand, it's right for your hand. Sharper thinking.
25 YEAR GUARANTEE

Chosen by leading chefs worldwide, Furi's revolutionary design, excellence and precision are backed by a 25-year guarantee. Perfectly polished with a sleek, seamless design, Furi dedication to quality is made to last.