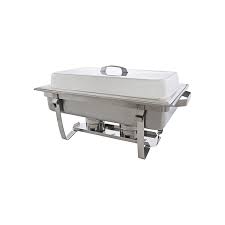 Economy Stackable Chafer 1/1GN Size
Recommended Retail Price
$135.00
-
Recommended Retail Price
$135.00
Chafing Dishes & Accessories are ideal for buffets and self-service environments.
Ideal for serving food at the correct temperature, this range withstands the rigours of long-term commercial use.

Dimensions: 600x350x320mm
Chafing dishes are recommended to be hand-washed to preserve life and a new look and feel. 

We recommend, where possible, to wash with warm soapy water and leave to dry.

Steam Pan insert is dishwasher safe. 

Our dishwasher safe items are guaranteed to stand up against everyday commercial use rigours without compromising their original lustre or finish.
18/0 STAINLESS STEEL

Designed for both form and function, our 18/0 stainless steel is made from the highest quality materials. Durable, practical and dishwasher safe our stainless steel products are made to last whist also looking sophisticated and ageless.
HAND WASH RECOMMENDED
Hand washing is recommended to preserve life and a new look and feel. Hand washing avoids scratching and abrasions and keeps original finishes in pristine condition for lasting visual appeal.