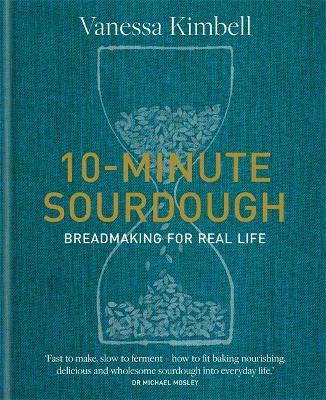 10 Minute Sourdough
Need it Soon?
Recommended Retail Price
$0.00
-
Recommended Retail Price
$0.00
Recommended Retail Price
$0.00
ISBN: 9780857839312
Publication date: 31/08/2021
'Fast to make, slow to ferment - how to fit baking nourishing, delicious and wholesome sourdough into everyday life' - Dr Michael Mosley 'Britain's queen of sourdough.' - Telegraph 'She's the real deal: a total inspiration.' - Diana Henry 'Vanessa's work on sourdough and the gut microbiome is changing the way we think of food, health and baking.' - Tim Spector, author of The Diet Myth Sourdough is one of the tastiest and most nutritious breads you can make, but it has a reputation for being both tricky and time-consuming. 10-Minute Sourdough is Vanessa Kimbell's foolproof guide to slow bread for those with busy lives. None of the fuss-free, no-knead recipes - which include everything from a basic sourdough boule to tomato focaccia and apple spelt sourdough with cinnamon butter - require more than 10 minutes' active work in total (not including fermentation time or time in the oven) and mean that anyone can turn their hand to sourdough baking, no matter how little time they have.